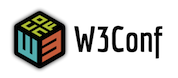 Last week, the annual W3C conference for web professionals, W3Conf 2013, was held in San Francisco. It was packed with tons of interesting talks. The event was professionally organized and it attracted the attention of various Who's Whos in the front-end development world.
There was an extremely positive vibe, in particular because the theme varies a lot, from ECMAScript 6 to CSS secrets. WiFi worked really well, social medias were flooded with thoughts and opinions from the attendees. There was an ample supply of lunch boxes, snacks, drinks, and even cupcakes to keep everyone energized. The entire conference was live-streamed. In addition to that, Faruk Ateş did a fantastic job of live tweeting the running topic and Chris Coyier posted his excellent notes after every session.
I did a talk on Fluid User Interface with Hardware Acceleration and received a lot of good feedback and follow-up discussion. For those who were not there, check out the slide deck and the following recorded video (make sure you check other talks as well).
Kudos to Doug, Lea, Divya, Liz, and many others who were involved in organizing this amazing conference. See you at W3Conf 2014!