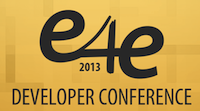 Last week I had the honor of attending Engineers4Engineers, a small developer-oriented event organized by Constant Contact in Waltham (MA). This conference was attended by over 250 people, it was an amazing experience.
Despite being the first in the series, the organizer did an awesome job (kudos to Anthony and friends who spent an enormous effort to ensure its success). The sessions were high-quality, featuring well-known speakers like Dharmesh Shah (HubSpot) for the opening keynote, as well as Mitchell Hashimoto (Vagrant), Charles Nutter (JRuby), and many others. The live streaming (of all 3 parallel tracks) went without a glitch, quite an achievement I would say.
Constant Contact was a great host, I had some conversations with very very nice people. The food and make-your-own-trail-mix snack were satisfying, the social event held in downtown Waltham closed the event wonderfully.
If you live in the area, keep an eye (or two). You don't want to miss next year's E4E!
And now, I'm getting ready for the final part of my summer tour.