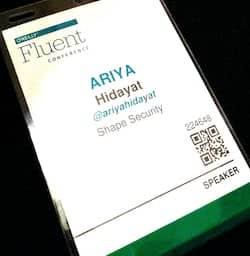 This week it's all about the most recent Fluent Conference 2014 in San Francisco. It's the third Fluent and boy, it's getting more phenomenal than ever.
For my part, I presented a talk on the topic of Design Strategies for JavaScript API (slide deck, 2.2 MB PDF download). If you are a regular reader of this blog, you may be familiar with the topic. A few past blog posts which discuss the subject in more details are:
Obviously there were tons of very very interesting presentations. To get the taste, you can watch the keynotes video (check this YouTube playlist). From Brendan's session, bleeding-edge JavaScript features such as SIMD support and asm.js-esque Unreal 4 engine demo will make you very excited.
The full video compilation will be sold once it is out in a few weeks. You may also wait for those speakers who will upload their own video once it is available.
Kudos to the organizers and everyone involved for such a memorable event. See you next year!
Update: You can watch my presentation on YouTube (28 minutes).