The use of Kanban boards is fairly popular in the context of a sprint-style software development, as a form of a lightweight project management. Extending the use of Kanban boards to handle general management tasks will give the benefit of encouraging transparency and promoting accountability.
The beauty of the concept of a Kanban board is its simplicity. With a quick glance, everyone can understand what is going on, thereby reducing the overhead and the hassle of asking around or finding the right folks who can give the current status. A minimalistic Kanban board consists of 3 columns, typically named as Todo, In Progress, and Completed. This is sufficient to telegraph the actual stage of each task or activity. There are various tools and products out there which facilitate a digital Kanban board, from Trello, Asana, JIRA Kanban, GitHub project boards, GitLab issue board, Azure Boards, and many others.
While using Kanban boards is fairly popular to organize engineering tasks, unfortunately not many organizations adopt it to also track engineering management tasks. There is an opportunity to use the familiar tool and process to ensure that every engineer can understand, participate, and follow the progress of anything being promised to them by the management team.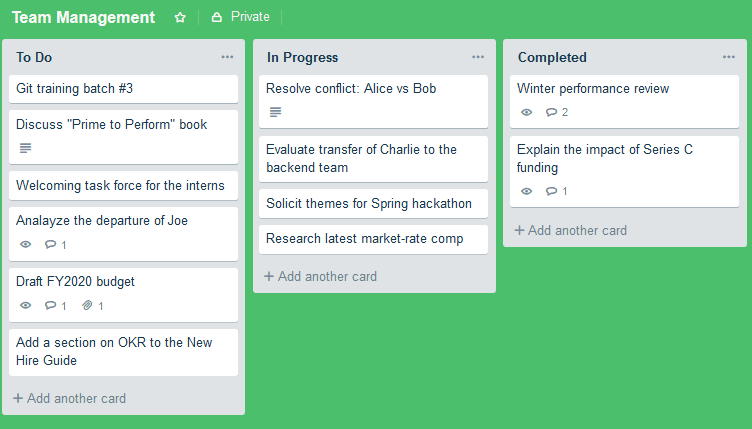 There are a couple different variants of such a management Kanban board, depending on the management level.
A straightforward use of the board to summarize the action items after each 1:1 meeting. For this, a private board, accessible only to the engineer and their corresponding manager is needed. This kind of boards will record everything from the manager's assurance to check for a new opportunity, to start a performance review, to offer a compensation adjustment, and so on and so forth. Likewise, if from the engineer's side, they need to do something, whether to think carefully about the desired career progression, to solicit some feedback, to improve some non-technical skills, to enroll in a training, then the tasks can be listed on the board. A good habit of tracking tasks (for both parties) and continously updating them will facilitate much smoother 1:1 sessions.
Likewise, a group of managers can work on a peer board (still private, only visible to them). For instance, this will ensure that any cross-team non-technical tasks will not be intentionally or accidently left unattended. Also, if these managers want to coordinate a group activity, such as preparing a 360-review, discussing current sensitive issues, planning the next internships, etc, it becomes easier to organize. Since it is a group board and every manager can see what is being worked on and the status thereof, the amount of peer-to-peer communication can be reduced.
Last but not least, depending on the size of the organization, there could be one or more public boards, available for everyone to see. Some common examples of this will be all kinds of company-wide team building activities, plans for office improvements, forthcoming important guest talks, reminders of benefit reviews/enrollments, upcoming hackathons, etc. Having the tasks available for anyone who is curious about it will promote accountability. For instance, there is no more confusion about any follow-ups of a specific plan outlined by an executive at the town hall meeting a few months back then. In addition to that, new hires can immediately have an overview of all things currently happening around them and hence, it opens the possibility to participate and be part of team right away.
Using a Kanban board to track all flavors of engineering management task also promotes the proper flow of information. There is no need for some ad-hoc (and sometimes, peer-to-peer) inquiries. Everyone can offer some contribution, if they want to, in a slightly structured way (compared to discussions on a forum or even Slack). Meanwhile, there is also less chance of misunderstanding because it is always clear who is responsible for a specific task and by when it is expected that the task is completed.
Do you have a management Kanban board? Care to share your experience?